Imagine you click on a Wikipedia article to read about the Los Angeles Olympics only to find yourself, fifteen minutes later, immersed in the biography of Billy Mitchell, the world champion of the video game Pac-Man. This is how Barbara Matijević tells her own version of the year 1984 in a lecture performance I AM 1984.
There are no major or minor themes here, just as there is no compositional center in Barbara's illustrative blackboard drawings. She easily switches from one subject to another, associating ideas, people and events in a way similar to Web browsing, gradually turning the drawings into a kind of map made of memories and projections of her 6-year-old self.
The piece makes connections between autobiographical elements (the childhood dreams of BM, the author-performer's alter ego, the communist history of the former Yugoslavia), and an overwhelming number of disparate events and facts ranging from sports to the entertainment industry and advertising.
Through tragicomical twists and turns of ever-branching narrative paths, Giuseppe Chico and Barbara Matijević present us with a hypertextual exploration of human thought in the digital age.
Mixing elements of narrative illustrations, autofictional monodrama, ego-history and contemporary mythologies, I AM 1984 claims Web browsing as a valid act of theatrical narration.
I AM 1984 received the Special Jury Prize at the 2008 International Festival Infant in Novi Sad (Serbia).
Authors: Giuseppe Chico and Barbara Matijević
Performer: Barbara Matijević
Production : 1er stratagème et de facto
Co-production : ZeKaeM (Zagreb – Croatia)
Creation: 7 march 2008, ZeKaeM (Zagreb – Croatia)
Duration: 50 minutes.
Language: English, Italian or French
Note: The performance received The Special Award by the international jury of the INFANT festival in Novi Sad ( Serbia) in 2008.
---
Photos
Credits: ©Julien Correc and Olivier Heinry, 2012, Creative Commons 3 BY-SA
---
Archive
2008
7-10/03 – 15-16/03 ZeKaeM Theater, Zagreb ( Croatia )
17/05 Barutana, Osijek ( Croatia )
28/06 Festival Infant, Novi Sad ( Serbia )
26/07 Art Workshop Lazareti, Dubrovnik ( Croatia )
31/10 Musee de Jeu de Paume, Paris ( France )
14/11 Kranjcar Gallery, Zagreb ( Croatia )
2009
05/03 Living Room, Bologne ( Italy )
11/03 iLive2, LiFE / St.- Nazaire ( France )
20-22/08 Festival Far, Nyon ( Switzerland )
03/10 Spoken World , Kaaitheater / Brussels ( Belgium )
16-17/10 Vie festival, Modena ( Italy )
24/10 METEOR festival, BIT-Teatergarasjen / Bergen ( Norway )
27/11 iLive3, LiFE, St.- Nazaire ( France )
2010
13/03 Consortium, Atheneum, Dijon ( France )
19/03 UOVO Festival, Triennale, Milan ( Italy )
26/03 360° Festival, St.Brieuc ( France )
30-31/03 Etrange Cargo, Menagerie de Verre, Paris ( France )
15-17/04 Museum of Contemporary Art, Zagreb ( Croatia )
28/05 Contemporanea, Prato ( Italy )
03/09 Festival international Castel dei mondi, Andria ( Italy )
17/09 Kunstraum Niederösterreich, Vienne ( Austria )
18/12 Reims Scène d'Europe, Frac Champagne-Ardenne ,Reims ( France )
2011
2/03 Festival Performatik, Kaaitheater / Bruxelles ( Belgium )
19/03 Gusti Astrali, Teatro Astra / Vicenza ( Italy )
16-17/04 Festival B :om , Seul ( Sud Korea )
27-28/ 05 Festival A/D Werf, Utrecht ( Netherlands )
3/09 OperaEstate, Bassano del Grappa ( Italy )
2012
27/01 Theatre Aurora, Marghera-Venice ( Italy )
28/01 Teatro delle Briciole, Parme ( Italy )
2/02 Cabaret de curiosités#7, Phénix / Valenciennes ( France )
26/02 Ri-creazione, Asti ( Italy )
2013
19/04 Experienz#2 – Wiels, Bruxelles ( Belgium )
23/06 Mmc Luka, Pula ( Croatia )
2014
9 and 11/05 – YO! Fest Strasbourg ( France )
---
Press
Vijenac – 24/04/2008 – Andrej Mircev
Zarez – 29/05/2008 – Natasa Govedic
Corriere di Bologna – 5/03/2009 – Massimo Marino
Corriere della sera – 20/03/2010 – Valeria Crippa
Art 21 – n°27, eté 2010 – Lou Forster
Giornale di Vicenza – 21/03/2011 – Alessandra Agosti
Gazzetta del Mezzogiorno – 3/06/2011 – Nicola Morisco
Gazzetta di Parma – 30/01/2012 – Valeria Ottolenghi
---
Technical rider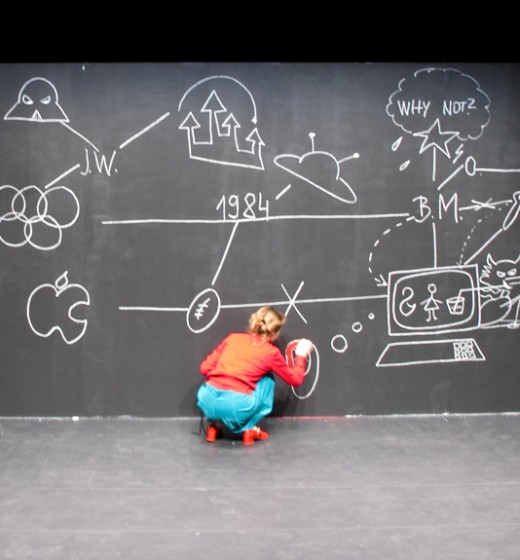 Black box version
Equipe in touring
2 persons
Stage set
A black board, 5-7 mt. wide, 2.50 mt. high, on which is possible to write with a white chalk
A small black table
A black stool
A sponge and a bucket
Stage
Distance of about 5 mt. between the board and the first row of the audience
Minimum width: 8 mt.
Minimum depth: 6 mt.
Light
Without any change during the entire play. The light illuminates the entire board with a filter 202 or 203 and cuts straight to the sides and the top of the frame. It is more open at the foot of the board, illuminating up to 3 mt of the ground.
The public is also lit, using audience lights, low intensity.
Audio
Mini-jack sound output, stage right
Rehearsal schedule
6 hours of rehearsal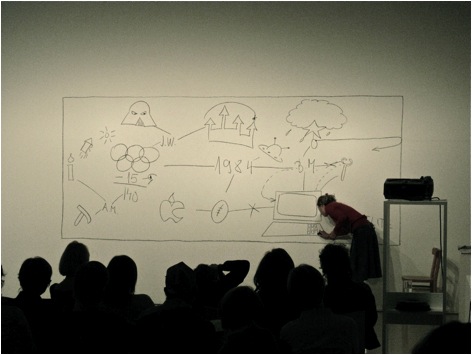 White cube version
A white wall, 4-6 mt wide, minimum 3.5 meters high on which can be written with black charcoal.
A sufficient number of gallery spot lights to illuminate the surface evenly
A small table (white)
A stool
A minijack sound output
About 4 mt. of distance between the wall and the first row of the audience
Several small sheets of sandpaper