---
I AM 1984 uses a theatrical set up of a lecture (exploring the ready-made relationship between the lecturer and the audience) to establish a complex exchange of information. The verbal flow of information is apparently facilitated by the graphic/pictorial ones, which soon starts to function as an intricate set of signifiers that activate different cognitive processes in the mind of the spectators, reaching out into their knowledge of history, popular culture, art, science, video games, film, etc., eventually becoming an exercise in information processing. The final drawing is a kind of mental map, a "conspiracy of the brain", establishing connections between an overwhelming number of disparate events and facts. This operation, which has become a model of intelligibility central to the current political discourse, is as comical as it is tragic. It aims at giving sense to events, to ambiguous and dramatic situations, to make an intelligible story out of contradictions and transformations that are continually affecting the world, in order to release the unbearable pressure of reality's contingency. Revolving around the year 1984, it establishes connections between the autobiographical elements (pertaining to the Croatian communist history and childhood dreams of B.M., the performers alter ego) with the facts, people and events from the U.S.A. history (such as the Los Angeles Olympic Games, Steve Jobs, Star Wars, Bob Dylan, Microsoft, Timothy Leary, David Bowie, etc.). It releases the anxiety generated by the feeling of the loss of individuality and autonomy in the face of huge and anonymous forces of the super-structure (economic as well as linguistic) that seems to control our lives and even our most intimate thoughts and desires. It is the way for those who are not taking part of the centers of power and knowledge to imagine themselves heroically in possession of that knowledge, but without the intention to parody the impotence of the "ordinary man". On the contrary, it points out to the possibility of each individual to claim their own creative way of making sense of the world.
I AM 1984 is a first part of a trilogy called: Theory of a performance to come or the only way to avoid the massacre is to become its authors?
Authors: Giuseppe Chico and Barbara Matijević
Performer: Barbara Matijević
Production : 1er stratagème et de facto
Co-production : ZeKaeM (Zagreb – Croatia)
Creation: 7 march 2008, ZeKaeM (Zagreb – Croatia)
Duration: 50 minutes.
Language: English, Italian or French
Note: The performance received The Special Award by the international jury of the INFANT festival in Novi Sad ( Serbia) in 2008.
---
Photos
Credits: ©Julien Correc and Olivier Heinry, 2012, Creative Commons 3 BY-SA
---
Archive
2008
7-10/03 – 15-16/03 ZeKaeM Theater, Zagreb ( Croatia )
17/05 Barutana, Osijek ( Croatia )
28/06 Festival Infant, Novi Sad ( Serbia )
26/07 Art Workshop Lazareti, Dubrovnik ( Croatia )
31/10 Musee de Jeu de Paume, Paris ( France )
14/11 Kranjcar Gallery, Zagreb ( Croatia )
2009
05/03 Living Room, Bologne ( Italy )
11/03 iLive2, LiFE / St.- Nazaire ( France )
20-22/08 Festival Far, Nyon ( Switzerland )
03/10 Spoken World , Kaaitheater / Brussels ( Belgium )
16-17/10 Vie festival, Modena ( Italy )
24/10 METEOR festival, BIT-Teatergarasjen / Bergen ( Norway )
27/11 iLive3, LiFE, St.- Nazaire ( France )
2010
13/03 Consortium, Atheneum, Dijon ( France )
19/03 UOVO Festival, Triennale, Milan ( Italy )
26/03 360° Festival, St.Brieuc ( France )
30-31/03 Etrange Cargo, Menagerie de Verre, Paris ( France )
15-17/04 Museum of Contemporary Art, Zagreb ( Croatia )
28/05 Contemporanea, Prato ( Italy )
03/09 Festival international Castel dei mondi, Andria ( Italy )
17/09 Kunstraum Niederösterreich, Vienne ( Austria )
18/12 Reims Scène d'Europe, Frac Champagne-Ardenne ,Reims ( France )
2011
2/03 Festival Performatik, Kaaitheater / Bruxelles ( Belgium )
19/03 Gusti Astrali, Teatro Astra / Vicenza ( Italy )
16-17/04 Festival B :om , Seul ( Sud Korea )
27-28/ 05 Festival A/D Werf, Utrecht ( Netherlands )
3/09 OperaEstate, Bassano del Grappa ( Italy )
2012
27/01 Theatre Aurora, Marghera-Venice ( Italy )
28/01 Teatro delle Briciole, Parme ( Italy )
2/02 Cabaret de curiosités#7, Phénix / Valenciennes ( France )
26/02 Ri-creazione, Asti ( Italy )
2013
19/04 Experienz#2 – Wiels, Bruxelles ( Belgium )
23/06 Mmc Luka, Pula ( Croatia )
2014
9 and 11/05 – YO! Fest Strasbourg ( France )
---
Press
Vijenac – 24/04/2008 – Andrej Mircev
Zarez – 29/05/2008 – Natasa Govedic
Corriere di Bologna – 5/03/2009 – Massimo Marino
Corriere della sera – 20/03/2010 – Valeria Crippa
Art 21 – n°27, eté 2010 – Lou Forster
Giornale di Vicenza – 21/03/2011 – Alessandra Agosti
Gazzetta del Mezzogiorno – 3/06/2011 – Nicola Morisco
Gazzetta di Parma – 30/01/2012 – Valeria Ottolenghi
---
Technical rider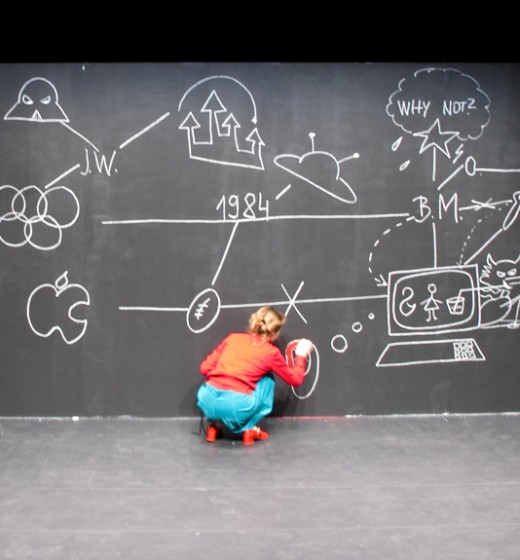 Black box version
Equipe in touring
2 persons
Stage set
A black board, 5-7 mt. wide, 2.50 mt. high, on which is possible to write with a white chalk
A small black table
A black stool
A sponge and a bucket
Stage
Distance of about 5 mt. between the board and the first row of the audience
Minimum width: 8 mt.
Minimum depth: 6 mt.
Light
Without any change during the entire play. The light illuminates the entire board with a filter 202 or 203 and cuts straight to the sides and the top of the frame. It is more open at the foot of the board, illuminating up to 3 mt of the ground.
The public is also lit, using audience lights, low intensity.
Audio
Mini-jack sound output, stage right
Rehearsal schedule
6 hours of rehearsal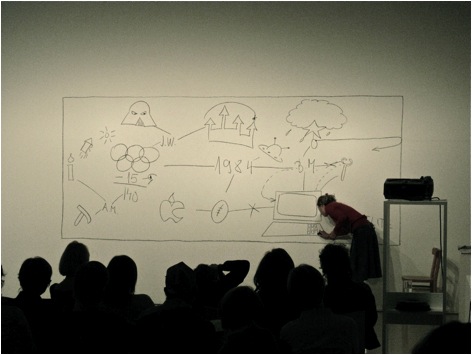 White cube version
A white wall, 4-6 mt wide, minimum 3.5 meters high on which can be written with black charcoal.
A sufficient number of gallery spot lights to illuminate the surface evenly
A small table (white)
A stool
A minijack sound output
About 4 mt. of distance between the wall and the first row of the audience
Several small sheets of sandpaper